Dashboard Details
Ideal for single-site or multiple site locations, the DIGIOP Connect Dashboard is more than text overlay. It combines video surveillance with powerful data from your POS and other data sources, presenting the data in a single interface.
Customizable Interface
Multi-tabbed layout
Drag and drop management
Up to 36 cameras or data sources per tab
Displays multiple systems
Customizable user profiles
The DIGIOP Connect Dashboard allows unlimited ways to interact with your data and video through customizable layouts. We offer advanced search features, viewing tools, and in-session technical support.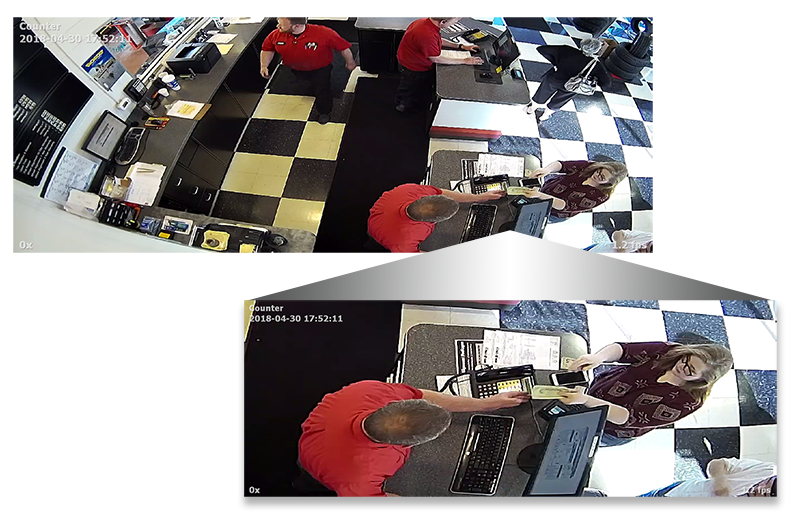 Search and Playback Features
Calendar search
Search via thumbnail and mouse over to enlarge image
Intelligent timeline search
Play live and recorded video
Digital zoom
Group and tours
Smart search
Historical data trending
Data mining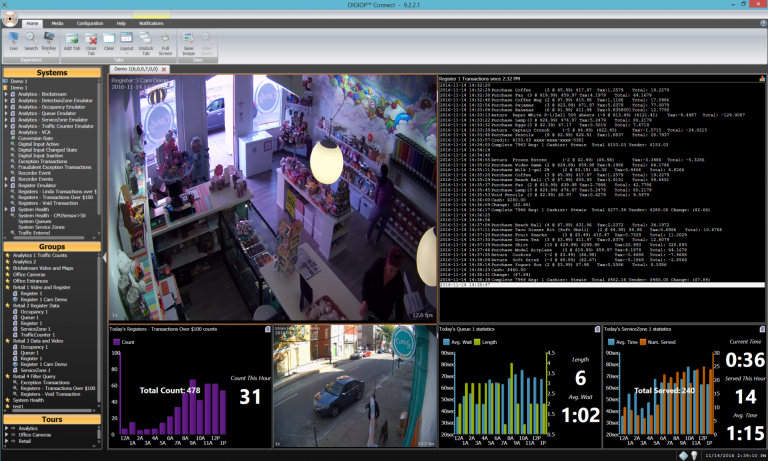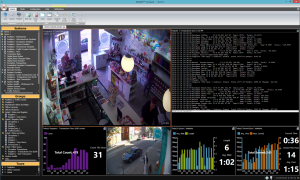 Groups and tours
Create groups of camera selections and data views from multiple locations, which are saved in the cloud and can be made available to your entire organization.
Once groups are created, you can program a tour which cycles through groups on a set or pre-configured time interval. The tour will automatically update but still allows for full access to data mining and replays.
Video Analytics
The DIGIOP dashboard can integrate with video analytic cameras, creating trending views on:
People counting
Customer queue lengths
Employee speed of service
Traffic patterns
Wait times
Heat mapping
Additional Features
Remote Viewing
Have the ability to view video and data from anywhere, including your Connect Dashboard to mobile apps.
Smart Search
Smart Search conducts a video search within an area of interest, finding the moment(s) of interest from hours of video.
Technical support
Launch support sessions while in your system, allowing our skilled technicians to view your screen and help resolve issues immediately.
System Health Monitoring
Quickly identify system errors, hard drive statistics, system logs and CPU usage.
Cloud Details
The DIGIOP cloud hosted management portal, Control, allows a single interface to access all system settings at an enterprise management level. The management portal lives in the cloud, while the video and data is securely stored in your NVR, offering the best of both worlds.
Configuration and Updates
The intuitive Control management portal reduces configuration time, giving you global management capabilities and access from anywhere.
Ideal for single and multi-site businesses, the portal offers centralized management for multiple user roles and permissions.


Global Permissions
Permissions are granted at a system level, but also can be managed at a granular level such as by camera, user, or data level.
Filter Query Creation
With our cloud-based query creator, you can create complex data queries in the cloud and they will be permanently saved in the cloud, available to all sites, locations, and systems.
Rules and Actions
Create rules about what happens when certain events occur in a system or the cameras and devices connected to it. Rules can be configured globally for all systems associated with your account. Examples of rules and actions include:
Email alerts
Image pushes
Recording conditions
Security
DIGIOP offers the highest level of security on our cloud-based system. Additional advantages of intense security include:
Permissions can be assigned in the cloud in order to limit user capabilities
Private log in credentials allows for tracking and security
Video and data remains secure on your local server
Video and data configuration are protected behind firewalls
Failover capability in the event of local hardware failure because configurations are backed up in the cloud
Request a DEMO to see the full capabilities of our cloud based management portal.
Data Details
DIGIOP provides the data you need, when you need it through our unique loss prevention turnkey solution.
DIGIOP relies on the data provided by your point-of-sale (POS) system. We can work with multiple data output types. Our 15+ years of experience has allowed us to connect with many of the top POS systems for retailers, including:
Radiant Systems
Retalix
Verifone
Xpient
Gilbarco Veeder-Root
EPICOR
Navex
CAP Software
Microsoft Dynamics
Data Views & Capabilities
The power of our data is funneled through our universal data driver, creating consistent data views for trending and analysis, including:
Live transactions
Transaction counts
Keyword search
Associated video resources
Live and recorded data filtering
Exception transactions
Fraudulent exceptions
Conversion rates
Data mining
Customized queries
With DIGIOP Data, you can audit POS data in real time, mine recorded data, and integrate video analytics with a single powerful tool.
Access POS Data in Real Time
See live trending reports so you can make adjustments in real time
Simultaneously access POS data and associated video in real-time
Full transaction detail
Identify fraudulent transactions
Real-time exception reporting
Live trending charts
Receive notifications and alerts about suspicious events
Mine Data
Efficiently mine data for specific events and view associated video
Do a "Google-like" search of your data
Use multiple data criteria to filter search results
Use Boolean search terms: contains, equals, and, less than, greater than, etc.
Easily export data with Data Summary Forwarder

Integrate Video Analytics
Improve visibility into location performance and profitability
Store conversion rates
Customer queue lengths and wait times
Speed and quality of service metrics
Area occupancy, traffic patterns and people counting